Blížící se k@brioakce

Nejsou žádné blížící se k@brioakce.
Aktuality
Soutěž MOJE AUTO
Zima je na krku a abychom si zkrátili dlouhé zimní večery, vymysleli jsme pro Vás soutěž, u které se zabavíte a máte možnost vyhrát i zajímavé ceny.


více informací... [27.10.2014]
---------------------------------------------------------------
Shrnutí kabriosezóny 2014
Bohužel je tu zase po roce podzim a mnozí z nás i přes krásné Babí léto uložili své Miláčky bez střech k zimnímu spánku a přichází pro ně smutné období bez sluníčka a větru ve vlasech.


více informací... [19.10.2014]
---------------------------------------------------------------
Ukončení sezóny v Brně
Rozloučení s létem 2014 na tradičním místě.


více informací... [04.10.2014]
K@briofóóór
Jede jeptiška autobusem a má na ruce sádru. Přisedne k ní farář a ptá se, co se jí stalo.
"Uklouzla jsem ve vaně, otče."
Za nimi sedí dva bezdomovci a ten jeden se ptá druhého:
"Co to je vana?"
"Jak to mám vědět, já přece nejsem katolík!"
KABRIOLET SNŮ
Venku je nechutná zima a pěkně hnusně, takže dost času trávím u motoristických časopisů. A jak si tak pročítám různé statistiky a žebříčky, došel jsem ke zjištění, že zřejmě nikde a nikdo ještě neudělal žebříček KABRIOLET SNŮ. Tak mě napadlo, že bychom to mohli konečně uspořádat (kde jinde než tady) na webu KABRIOLETY. Kdo jiný než my, majitelé aut bez střechy, by měl o něčem takovém rozhodnout.
Svá auta jsme si taky vybrali sami, bohužel nejen podle svých pocitů, ale i podle možností a to nejen finančních, ale třeba i možností trhu. Ne každý má možnost rozbít prasátko a zajít si do krámu koupit třeba SL AMG za pár "mega", které by se mu líbilo. Takže co zkusit zapomenout na peníze a vybrat si pouze podle svého srdce. Proto se Vás kolegové ptám:
"KTERÉ TŘI KABRIOLETY ze všech dob BYSTE SI VYBRALI" ?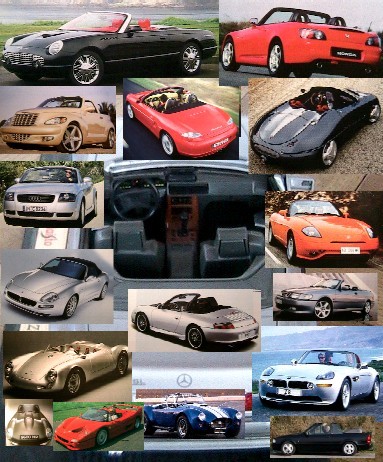 Rozhodněte se pouze podle vlastního vkusu, nehleďte přitom na peníze nebo na to jestli se auto ještě vyrábí nebo ne. Nebudu Vám tu ani nabízet seznam třeba 20-ti aut, ze kterých si můžete vybrat jako v jiných anketách, protože se vsadím, že bych určitě na toho Vašeho favorita zapomněl. Popuste uzdu Vaší fantazii. Máme tu únor, takže co takhle do prvního jarního dne nechat prostor pro Vaše hlasování. Měsíc by mohl stačit, případně bychom potom hlasování prodloužili. Bodovat se to asi bude podle pořadí 3-2-1 bod. Pak na to sednu, spočítám a ve spolupráci s Master_Tomem uděláme vyhodnocení naší miniankety.
Jak hlasovat:
Hlasuje se pouze tady v diskusi pod článkem.
Pokud možno, tak hlasujte jen jednou, v případě více hlasovaní jedné osoby bude brána pouze ta nejnovější.
Takže dál je to na Vás ...
20.02.2005
Petr

---
Průměrná známka: 3.05
Celkem hodnotilo: 2136
Hodnocení článku:
nejlepší [ 1 | 2 | 3 | 4 | 5 ] nejhorší
---